Cara Mia May presents 6-Days Yoga Retreat in Style at Masseria Potenti, Puglia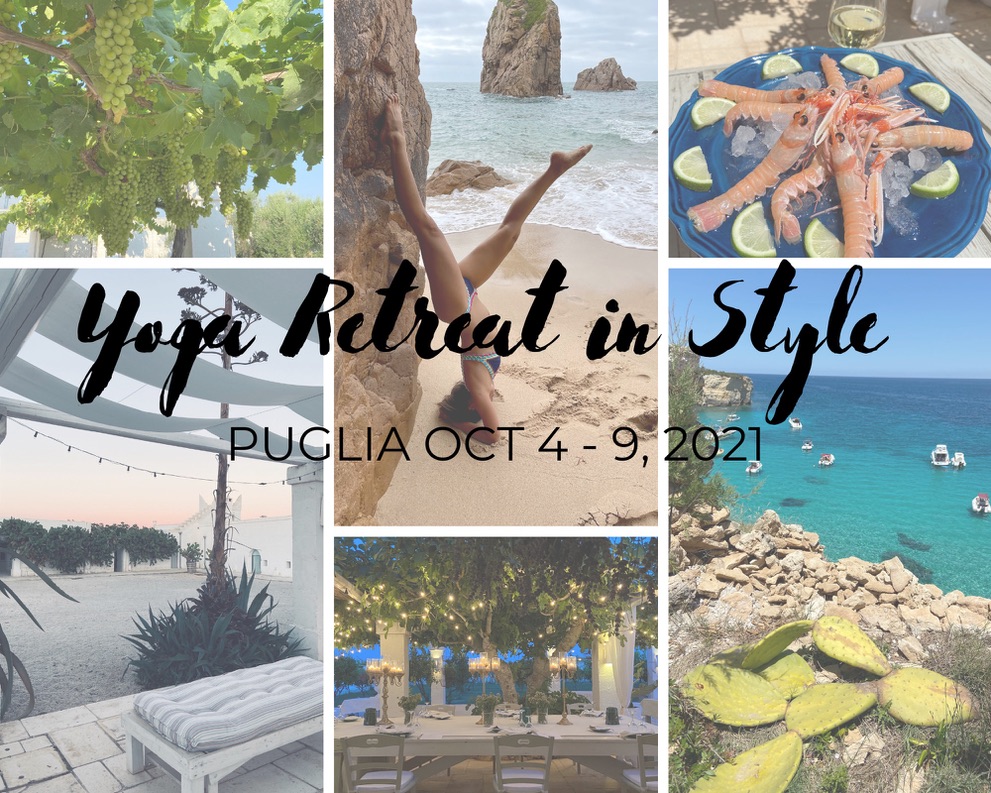 Enjoy the sunshine, Mediterranean countryside & the rustic home of Tommasino family. Join us in this Apulian getaway in the oasis of a 16th century farmhouse surrounded by 130 hectares of olive groves and vineyards. Explore beautiful beaches just a 10 minutes drive away and nearby towns of Lecce, Nardo, Ostuni & Grottaglie. Daily yoga practice to rejuvenate your body. Throughout the stay, whet your appetite to the freshest farm-to-table meals in the most magical settings.
Dates
Oct 4 – 9th 2021 with luxury accommodation options
Rates
Each farmhouse room is designed uniquely with antique and rustic furnishing keeping the countryside charm. Please let us know if you have a special request when you book with us.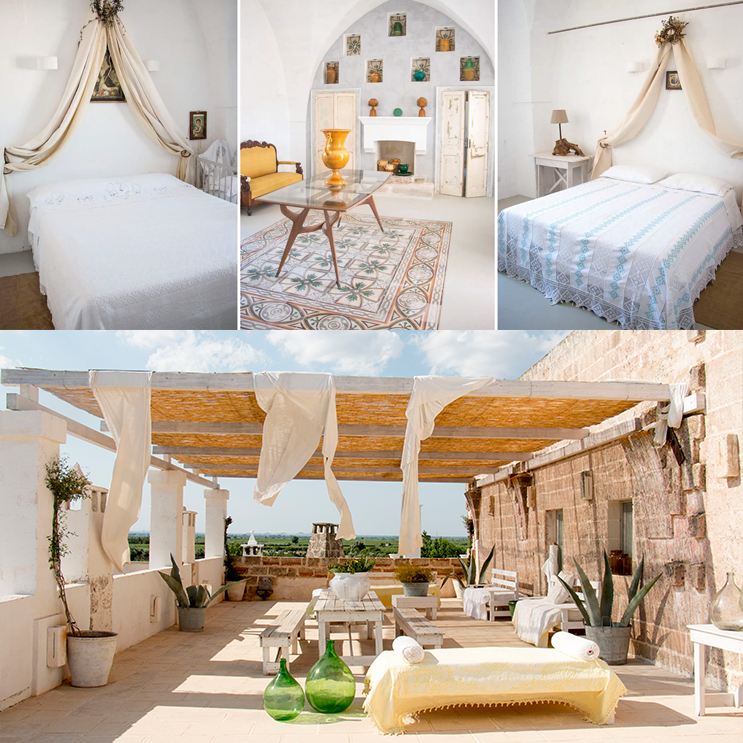 Private suite with a private outdoor space – £ 1,350

Private standard with garden / courtyard views – £ 1,310

Double-sharing room with en-suite shower – £ 1,010

Triple-sharing room with en-suite shower – £ 770
Meet your host!
May Koh is a 200Hr certified Awakening yoga teacher also trained in classical ballet, and has performed cultural dances in the World Dance Festivals in Costa Rica and Germany. She is the creator of Cara Mia May, a vintage-inspired pajamas brand that brings comfort to the modern life.
Her signature program combines detoxification, vinyasa yoga and ashtanga flow, supported with nutritious and balanced meals. After spending a few years on her own journey of ski and surf retreats around the world in Sri Lanka, Ibiza, Australia and France, she shares what she's learned and continues to learn with great joy.
Program for the 6-days
The only compulsory activity is to have fun! We will have daily vinyasa yoga flows, enjoy nutritious home-cooked meals in Mediterranean fashion, movie under the stars, and dance in the olive trees. Let all your worries go and let us take care of you during this wellness week.
What's included?
Daily yoga in our indoor and outdoor shala. Breakfast, lunch and dinner with seasonal and local ingredients from the farm. Selection of wines by Masseria Potenti. You'll be greeted on welcome night with homemade pizza and the last night will end with an aperitivo pajama party (with pajamas sponsored by Cara Mia May). Somewhere in between, we will enjoy sunsets, the beach & plenty of pool and sauna time. You will be fully recharged before you know it and might want to linger on for more.
What's not included?
Flights and transfers from the airport (fly into Bari Airport 1.5 hours drive away / Brindisi Airport 40 mins drive away). We recommend you rent a car, so you can explore the surrounding towns and beaches during your free time. Optional activities will be additional, and can be arranged. We have an array of massages, cooking and ceramic classes available.
How do I book?
Please click here to register. We require a deposit of 30% in order to secure your booking. Kindly click here to prepay and we will get you registered for a space, please note we have limited spots available. By registering, you agree to our terms & conditions here.
If you have any questions, please contact us via the form below or email us info@caramiamay.com / info@masseriapotenti.com. I hope to see you on the mat and at the Masseria! Looking forward to slumbering with you in Cara Mia May, lots of peace and love.
Book your mat now!