Masseria Potenti: Apulian yoga retreat in spring time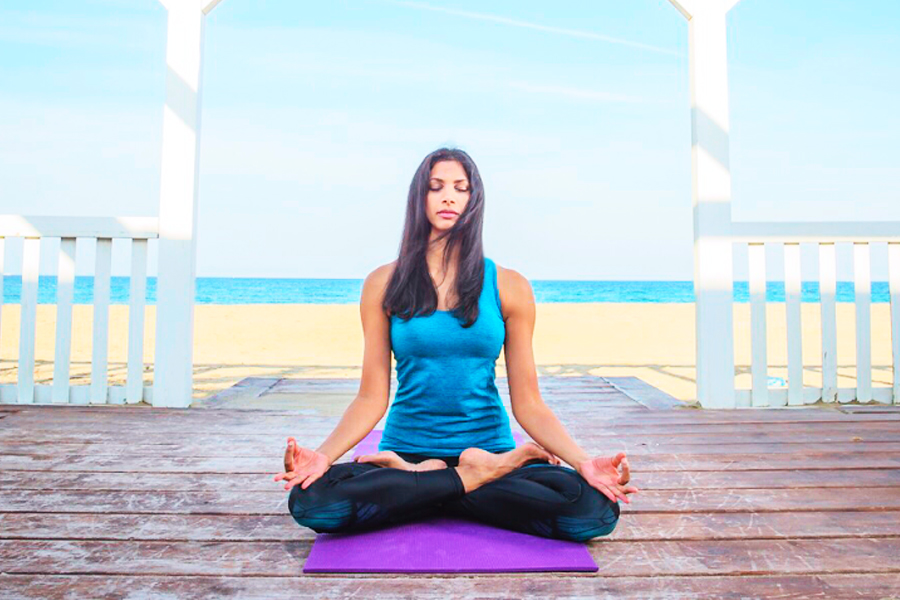 Yoga retreat in Apulia:  Masseria Potenti weekend 13th -16th April
13Th-16th April 2018

Programme
Friday 13 April: 
18:00

 – arrival, welcome drink.
19:00

 Introduction on Rebirth
Teresa and Chiara present the weekend program followed by coaching exercises to break the ice and get to know others


20:30

 Welcome Dinner + Overnight stay (in a single or double room)   
Saturday 14 April

: 
9-10.30
 

– Yogawith JULIE
10.30 am

 – breakfast
11:00

 TeresA Workshop on Finding your mission
1 pm

 – lunch and free time
3 pm

 hours – Guided practice: TERESA Meditation (Vipassana Tecnique) and Group Session on how to listen to our body
4 pm

 – Tea time
4:30 pm

: TERESA Workshop on How to visualize to manifest your mission
5 – 6.30 pm

 YOGAWITH JULIE
8 pm – Dinner in the dark to learn to listen Overnight
Sunday 15 April

 
9:00 am

 – YOGAWITH JULIE
10 am

 – breakfast
10:30

 Chakra: TERESA what they are and how to develop them
1 pm

 – lunch and free time
3 pm

Guided practice: TERESA Meditation and how to listen to our intuition
 4.30 pm – tea and pastries Hours
5 – 6.30 pm

 YOGAWITH JULIE
8pm – Dinner & Dreams – To share our dreams with the the others and bring them into reality
MONDAY 16 APRIL
10 AM

 – BREAKFAST
HOW MUCH:
SHAring ROOM with2: 555 EURO PER PERSON, TOTAL COST OF 1110 EURO.
BREAKFAST, LUNCH AND DINNER INCLUDED (WINE NOT INCLUDED)
Sharing ROOM with 3: 465 EURO PER PERSON, TOTAL COST 1395 EURO ROOM.BREAKFAST, LUNCH AND DINNER INCLUDED (WINE NOT INCLUDED)
SINGLE ROOM: 855> 855 EURO.BREAKFAST, LUNCH AND DINNER INCLUDED (WINE NOT INCLUDED)
Info:  099.9735408 –         info@masseriapotenti.it
Included in the price:
Three nights accommodation at the beautiful Masseria Potenti.
All meals, refreshments and snacks.
Two and a half days of workshops that will cover meditation and yoga lessons
Not included: Airport transfers, which can be arranged by the Masseria (Brindisi is the closest airport).
For payment and booking: A deposit of 50% to register for the workshop with final payment due by 13 April, 2018. To book and send deposit (by bank transfer) please email Chiara at info@masseriapotenti.it and please let us know when booking if you have any allergies or dietary requirements.
*The programme may change or have slight variations due to weather or availability.
What to pack: Bring with you comfort clothes for your daily yoga session.
The weather in Puglia during spring time is mild, it usually hovers around 20ºC/68ºF during the day and 15ºC/59ºF at night.
Cancellations: Due to logistics, there will be no refunds on cancellations. However, we can accept a replacement for your spot. We recommend you have travel insurance in the event of any unforeseen events.
WHO: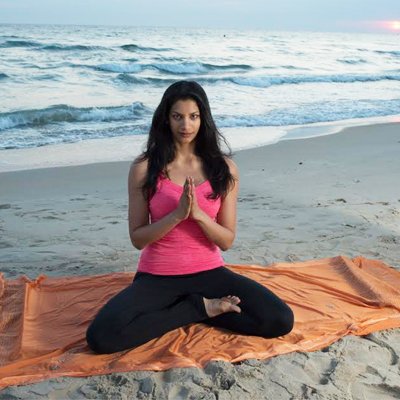 Julie Meo:
Born in Germany and originally from Kerala, India, yoga has always been a part of life for Julie since she was little, becoming a guiding concept of life beyond being solely an exercise form.
Julie trained with a vast variety of teachers in London, LA and in South India where she completed her teacher training. Following a career at Condé Nast in London where she launched brands such as Vogue, GQ and Glamour worldwide, Julie devoted herself to her passion of a healthy body and mind balance.
Julie's sessions are an all-round yoga experience as taught in the traditional Indian yoga culture. This includes breathing exercises, a yoga asana work out and meditation.
Julie teaches in English, German and Italian.
Styles vary according to student's level, but each class is designed to energize the body,  nurture a spiritual awareness, finding inner peace through strength and ultimately enjoying this life.
Julie has taught yoga to everyone from corporate to mums, beginners to advanced and various age groups from 3 years to 90 years. Julie is also a trained dance teacher and Ayurveda practitioner.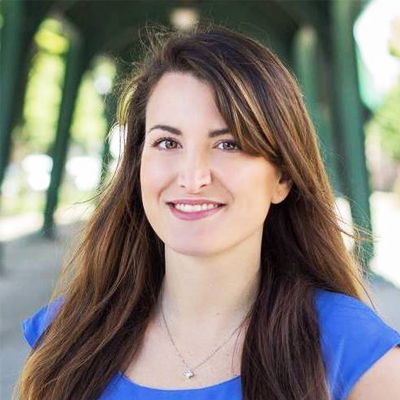 Teresa Budetta:
Teresa is more than a modern Lifecoach. She is the friend you have always dreamed for, emotional and at the same time determined. A woman, a 360 degree able to touch you with her passionate energy and her willpower. After graduating from Bocconi University, she develops a passion for the world of communication and well-being. She wrote for Huffington Post, worked for Mondadori and now manages the Italian food market for the Foodspring organic food company. She has always believed in the individual realization through confrontation, in the power inside everyone to help people to see their potential, in the sharing as an incentive for the self-improvement " because everyone is able to fulfill our dreams and to express our true potential ". All this has led Teresa to develop a passion for the Personal and Wellness Coach.  Teresa is also the founder of the Young Women Network, the first reality dedicated to development of Young Women. Teresa is a certified Wellness & Oil Essential Coach and Reiki Practitioner.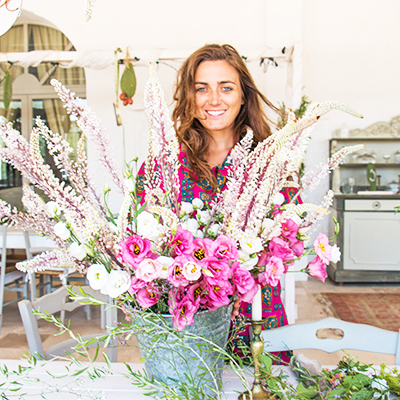 Chiara Tommasino: 
Coordinator of the event and happy heart for nature, with a law degree, after she had worked for years in Paris in fashion world and later for a famous publishing house, today she is full-time dedicated to Masseria Potenti. A place born to make the spirit feel good through the encounter of people. She believes in the continuous renaissance of the individual and in the possibility of reinventing themself through self-determination.