The Puglia encounter:
26-29 October 2017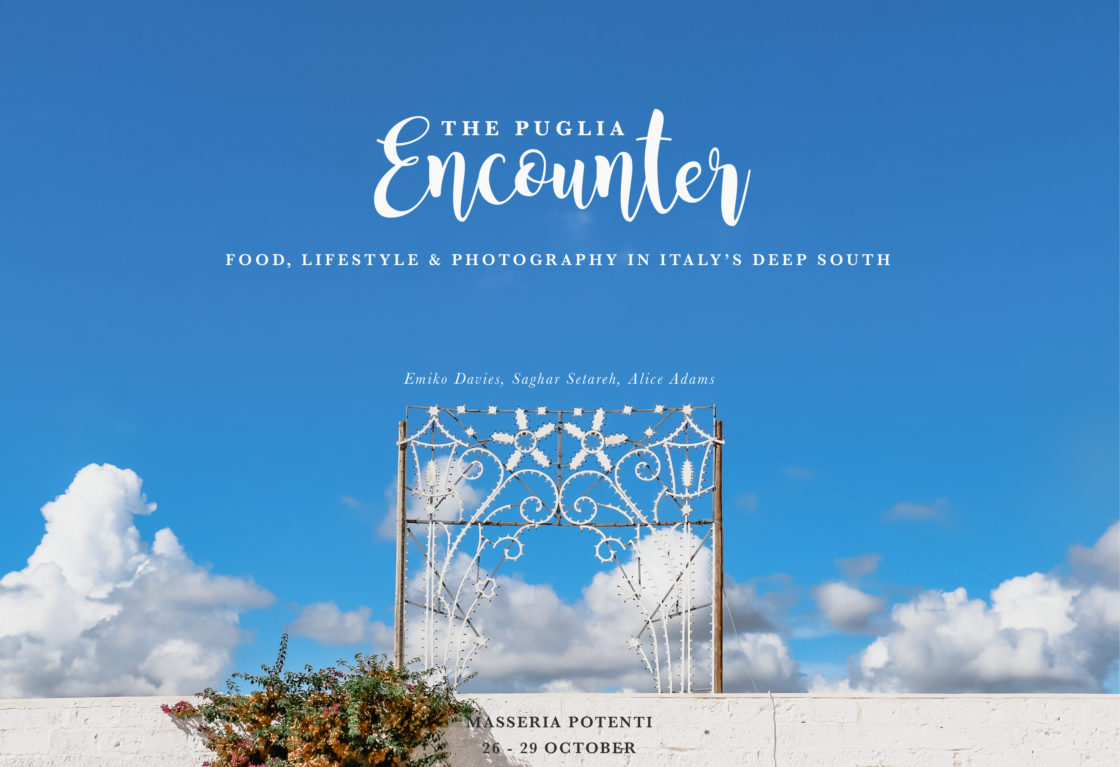 Where: La Masseria Potenti near Manduria, Puglia, about 15km from the turquoise Ionian sea and one hour from Brindisi (the closest airport). The white-washed masseria (a traditional Pugliese farmhouse), which dates back to the 1300s, is an oasis in the rugged, "wild west" of Puglia, set amongst grain fields, ancient olive groves and Primitivo vineyards. A boutique agriturismo and self-sustainable farm of 130 hectares, the masseria was brought to life by Maria Grazia Di Lauro and her husband Paolo, whose dream was to transmit their love for their native land to their children and friends. It's a special place that will inspire every one of your senses. Web | Instagram
What: The experience will include two and a half days of cooking, photography and styling sessions with your hosts, who will share their experience with you, as well as an excursion to nearby Grottaglie to discover the artisan ceramics and local cheesemakers. We will take a wander through nearby fields and pick vegetables out of the garden to prepare meals and set the table. There will be delicious, traditional meals prepared by the cooks of the Masseria – and plenty of time to relax and enjoy the Masseria in between.
When: 26-29 October 2017.
Who: This is ideal for anyone who is interested in travel, food and photography, creatives, food writers, travel writers, bloggers wanting to learn more or fill a portfolio full of inspiring images and stories and anyone who simply wants to spend a few wonderful days with like-minded people exploring and enjoying this incredibly authentic part of Southern Italy.
Alice Adams is an Australian cook and food stylist based in Rome. She works with local and international photographers and in 2015 created Latteria Studio as a food photography studio, a home for her ceramics and linen collection, and as a creative space for cooking lessons and workshops. Happiest in a market of any kind, she loves seeking out the special places to find the ingredients and props that help tell meaningful food stories. Web | Instagram
Emiko Davies is an Australian food writer based in Florence, the author of two cookbooks, Florentine and Acquacotta. She writes recipes on regional Italian cuisine for her blog and her Food52 column and has written food and travel guides for publications such as The Guardian, Saveur, Jamie Magazine and Gourmet Traveller. She loves to cook simple, unfussy food, tell stories and, when possible, to take photographs with good old fashioned film. Web | Instagram
Saghar Setareh is an Iranian food photographer and blogger based in Rome for the past decade, where she discovered her love for the culinary arts of all forms. She publishes photography and stories about Persian and Italian recipes on her award-winning blog Lab Noon, and collaborates with restaurants, chefs and food brands regarding their digital communication, especially food photography. She also teaches cooking, styling and photography workshops. Web | Instagram
The workshop is brought by Talea, the brainchild of Chiara Tommasino and Valentina Guttuso, an event design agency that creates nonconventional, exclusive experiences in alluring locations. Named after the Italian word for a plant cutting, the duo bring life to new ideas for projects and events, organising every last detail, from the creative beginnings to the styling and setting. Instagram
How much: 1850 euro per person in single room / 1650 Euro sharing double room;
Included in the price:
Three nights accommodation at the beautiful Masseria Potenti. Accommodation is in single occupancy rooms in the Masseria's apartments, with shared bathroom and living spaces. (You're welcome to enquire about double occupancy rooms if you would like to come with a friend or partner, and suite rates if you would like additional space)
All meals, refreshments and snacks.
All excursions, including foraging and visit to the ceramics workshops in the nearby town of Grottaglie.
Two and a half days of workshops that will cover cooking and food writing, food and lifestyle photography and styling (see below for the programme).
Not included: Airport transfers, which can be arranged by the Masseria (Brindisi is the closest airport).
For payment and booking: A deposit of 50% to register for the workshop with final payment due by 15 October, 2017. To book and send deposit (by bank transfer) please email Chiara at info@masseriapotenti.it and please let us know when booking if you have any allergies or dietary requirements.
*The programme may change or have slight variations due to weather or availability.
What to pack: Bring a manual camera, a notebook and an appetite. The weather in Puglia during autumn is mild, it usually hovers around 20ºC/68ºF during the day and 15ºC/59ºF at night.
Cancellations: Due to logistics, there will be no refunds on cancellations. However, we can accept a replacement for your spot. We recommend you have travel insurance in the event of any unforeseen events.
Suggested programme*:
Thursday 26 October
6pm – arrival, welcome aperitivo. Introduction and mingling
Friday 27 October
9 am – breakfast
10 am – coffee and morning tea with an introduction to the photography session by Sagar, followed by cooking session, styling and photography in three groups with Emiko, Alice and Sagar.
1 pm – lunch and time to relax
3 pm – field trip to Grottaglie, the city of ceramics
8 pm – dinner
Saturday 28 October
9 am – breakfast
10 am – a wander through the masseria grounds and surrounds to harvest local produce, herbs and flowers
11 am – setting a scene and making a meal with local produce
1 pm – lunch and time to relax
3 pm – social media, recipe writing, blogging, visual voice talk followed by lightroom editing
5 pm – fresh pasta making with Nonna Esther
8pm – dinner with Nonna's fresh pasta
Sunday 29 October
10am – brunch and farewell