#thepugliaepiphany: workshop in Puglia during the Epiphany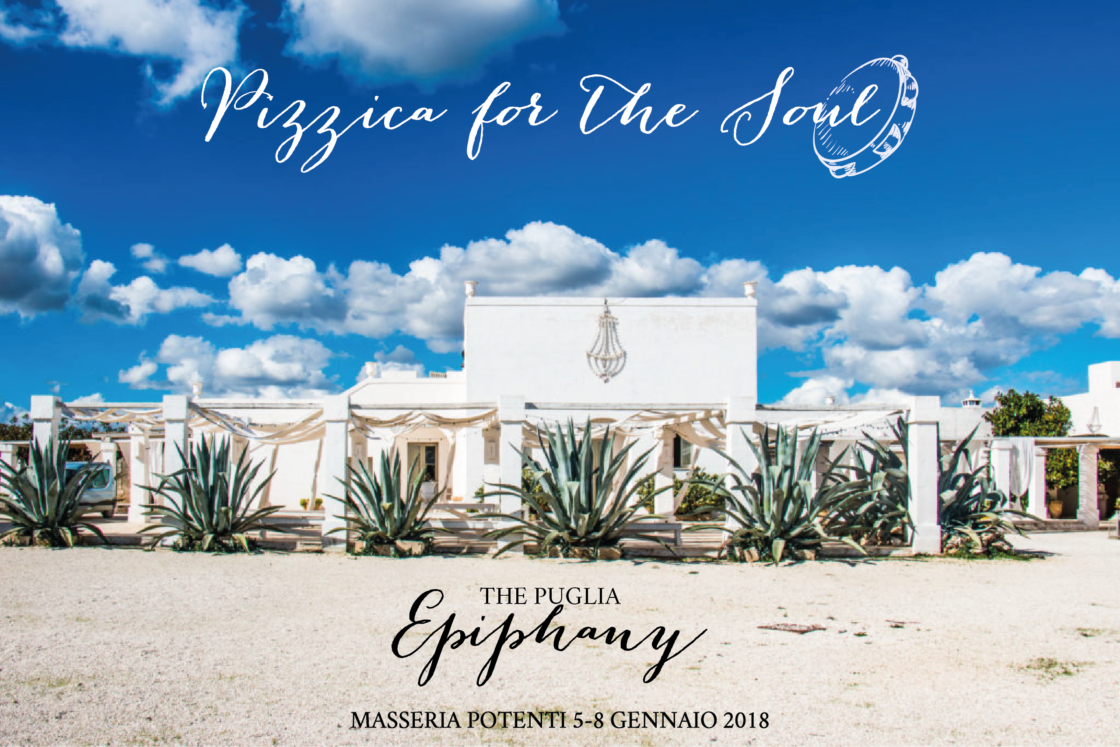 After the great success of the #thepugliaencounter workshop we thought about giving us a gift and planning the next workshop in Apulia #thepugliaepiphany. We were directly inspired by the etymological meaning of the term epiphany of Greek origin, ἐπιφαίνω, epiphany, to manifest ourselves. To make us bright and free with the pizzica dance and more generally the traditional dance of Puglia, a dance born to free the soul, heart and mind. To begin the new year leaving behind all the sadness of the previous one. To release our energy with our dance, to make our lights fly high, to be curious together with new friends waiting to have fun together.
#Thepugliaepiphany  is waiting for you!
For more information and reservations: info@masseriapotenti.it
Where: Masseria Potenti, an ancient farmhouse of the 14th-century, located in the Manduria agro, between vineyards, olive trees and Mediterranean forest. The accommodation for the participants is shared for two or single rooms;
What: The workshop includes a two-and-a-half day program, aimed at the individual development through dance (especially Pizzica, traditional Puglia dance) and being together.
When: From 5th to 8th January 2018
Who: The course is directed to curious people, to those that are taking up a course of self-improvement, to those who love dancing,  to those who simply want to leave.
The protagonists: 
Andrea De Siena: Dancer of San Vito dei Normanni, he collaborates with several traditional music groups such as Taricata and Trillanti. For many years he has been dancing in the Italian Folk Orchestra of Ambrogio Sparagna. In 2014 he was in the corps de ballet of La Taranta Night, directed by Miguel Ángel Berna, with whom he started a study period, dancing with Miguel Ángel Berna Ballet from 2014 to 2016 and taking part in the Arkhè Danza project. In 2016 he also participated in the performance of Japan Orfeo by Stefano Vizioli and Aaron Carpenè. He teaches traditional dances in Rome and throughout Italy. In 2016 he founde the Pizzica School of San Vito.
Ludovica Morleo: At the age of four she started the study of ballet, modern and contemporary dance that, along with hip-hop and African dance, she continues for eleven years at the Royal Dance Art Academy of San Vito dei Normanni, directed by Cinzia Diviggiano. His coreutic course continues, focusing on the study of traditional dances, in particular of the pizzica, attending the Pizzica School in San Vito. Currently studying and collaborating with Andrea De Siena. In 2016, she moved to Rome where he began her studies at Ottava Training Center by Stefano Marazzi.  In the same year she started to attend the Degree in Literature, Music and Entertainment at the University La Sapienza and she joined the EtnoMusa group (the first group of ethnic music in Europe). In 2016 she began studying Argentine tango at the Roman Academy of Tango, directed by Giampiero Cantone (2012 European Champion), where she became a teaching assistant since 2017.
Teresa Budetta: Teresa is more than a modern Lifecoach. She is the friend you have always dreamed for, emotional and at the same time determined. A woman, a 360 degree able to touch you with her passionate energy and her willpower. After graduating from Bocconi University, she develops a passion for the world of communication and well-being. She wrote for Huffington Post, worked for Mondadori and now manages the Italian food market for the Foodspring organic food company. She has always believed in the individual realization through confrontation, in the power inside everyone to help people to see their potential, in the sharing as an incentive for the self-improvement " because everyone is able to fulfill our dreams and to express our true potential ". All this has led Teresa to develop a passion for the Personal and Wellness Coach.  Teresa is also the founder of the Young Women Network, the first reality dedicated to development of Young Women. Teresa is a certified Wellness & Oil Essential Coach and Reiki Practitioner.
Chiara Tommasino: coordinator of the event and happy heart for nature, with a law degree, after she had worked for years in Paris in fashion world and later for a famous publishing house, today she is full-time dedicated to Masseria Potenti. A place born to make the spirit feel good through the encounter of people. She believes in the continuous renaissance of the individual and in the possibility of reinventing themself through self-determination.
Workshop prices:
shared double room 650 Euro per person
single room 800 Euro
N.B: in the offer transfer are not included. They can be organized in Masseria o requested by email: info@masseriapotenti.it
How to reserve : You can book by writing to info@masseriapotenti.it or by calling +39 099 973 5408. At the moment of the confirmation a payment of the 50% of the total is required (via bank transfer or credit card) non-refundable. At the moment of  the check in you will paid the balance.
Cancellation policy :  Unfortunately, due to organizational reasons of the event, you will not be able to return the deposit of 50%, however the participation in the event may be exchanged with another participant.
What's it included?:  Workshop of  3 nights stay in Masseria Potenti, breakfast, lunch, dinner and snacks included (wine not included). Two days of pizzica lessons, one cooking class and training coach for the first three days.
Programme*: 
Friday 5th January:
18:00 – Arrival, Welcome aperitif
Introdution and mingling
Teresa and Chiara: Why the epiphany?  Giving space to the divine which is inside each of us, to that potential  that sparkle in our ego, such as a bright star that sometimes we are only ourselves that we are not to be able to see.
Welcome dinner + overnight stay (in single room or double room)
Saturday 6th January:
8.30/9 am – Guided meditation
9 am – Breakfast
9.30 am – Teresa and Chiara. Workshop "Knowing themselves" –  Identify your talents, your mission, what we are born for and what we can create
10.30  – Introdution to the pizzica-pizzica: tarantismo and tarantella.
11.30 – Coffee break
1 pm – Lunch and spare time
3 pm – Guided practice: the dynamics of the pizzica-pizzica
4 pm –  Thè and pastries
4/4.30 pm: Teresa and Chiara " Visualize your dreams and how to be sure of whether to pursue them"
4.30 – 6 pm Guided practice:  the dynamics of the pizzica-pizzica
8 pm – Dinner in the dark to learn how to listen
Overnight stay
Sunday  7th January:
8.30/9 am – Guided meditation
9 am – Breakfast
9.30 am – Teresa and Chiara: Manifesting our dreams. As gratitude and positive thinking help us to manifest our dreams
10.30 am – The "danceable" of Puglia: quadriglia, mazurka, scottish, tarantelle of the Gargano.
11.30 – Coffee break
1 pm – Lunch and spare time
3 pm – Guided practise: the dance party
5 pm – Thè and pastries
8pm – Dinner & dreams
Monday 8th gennaio:
Cooking class in the ancient wood oven
Lunch e greetings
* Programme can be subjected to some modification for organizational reasons